If you found this article, you are probably asking yourself this question: "Can I add a Navigation to my Mercedes, equipped with the latest, but basic MBUX system?" I assume that you're referring to one of the following models: 2019+ A-Class or 2020+ CLA, GLB, GLA – Classes, or even the newly refreshed 2020+ GLC Class, so keep reading!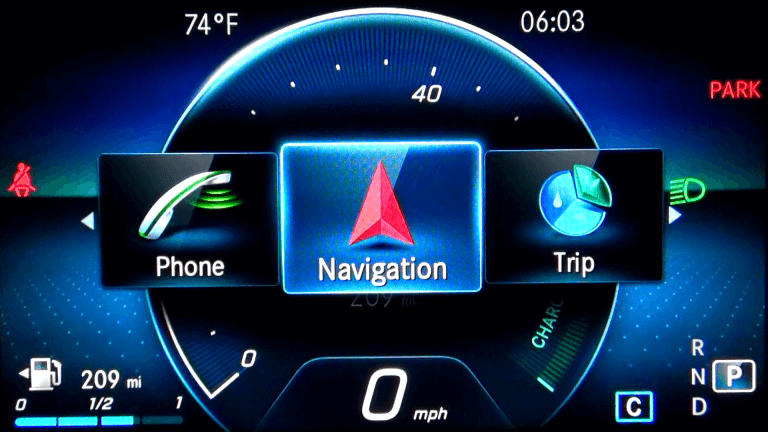 If you have one of the models mentioned above without the Multimedia Package, then your car is already equipped with the Mercedes-Benz NTG6 (MBUX) system. Therefore, you don't have any of the original Mercedes Navigation systems in your car right now. However, strangely enough, you can clearly see the Navigation icon while scrolling through the instrument cluster menu! As you can see in the photo above:
What's even more strange – is when you select this Navigation option, the following message pops up: "Please Insert Map Media" as you can see in the photo below. The message by itself is so misleading… that I don't even know where to start! Because any sober person would question himself immediately: "Where do I get the mysterious Map Media, and where the heck do I insert it into?"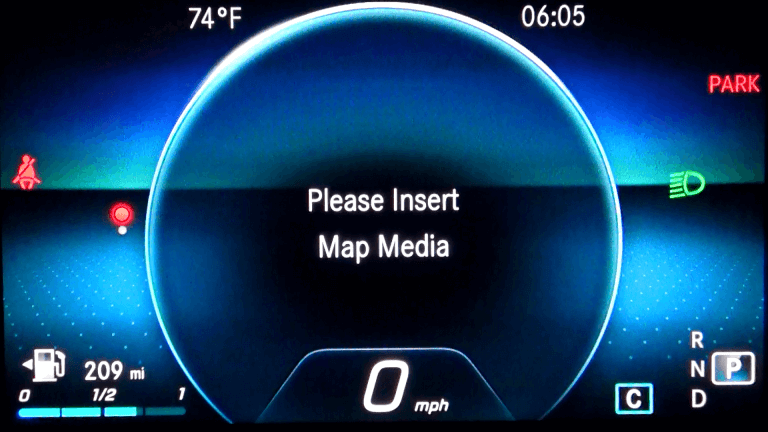 That would make a lot of sense because the other and many previous Mercedes-Benz models have always had an Accessory Navigation option which could've been easily added to any model in the form of an SD Card. All you had to do is buy an SD Card Navigation, mostly made by Garmin as well as others – as I wrote in my 3 Types of Mercedes Navigation Systems, and insert it into the SD Card slot as you can see in the photo below: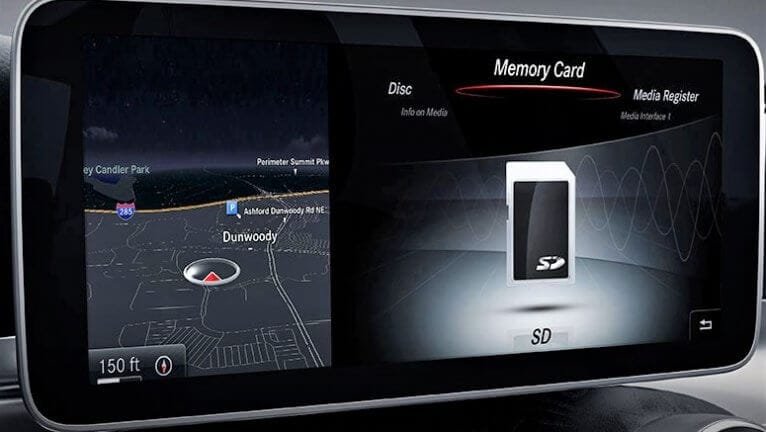 What's even more bizarre, unlike with the previous generations of models, there is no Accessory Navigation available for the models equipped with NTG6 (MBUX)! Even though you have a Navi icon, which clearly asks you to insert the Map Media… Furthermore, the SD Card slot is nowhere to be found! So, the only way to have a Navigation system in the above-mentioned models is to buy one already equipped with the Multimedia Package, which also requires the optional Premium Package. It would make your car a lot more expensive, so what are the alternatives?
One of the reasons Mercedes got rid of the SD Card Navigation was the mediocre quality of the guidance system. Yes, it would take you from point A to point B and it was very inexpensive, but it was really old technologically. Some people say: "Something is better than nothing." However, the latest Mercedes models have the Apple Car-Play and Android-Auto compatibility as Standard equipment. Both offer free and modern guidance systems, which are always updated up to the minute because those apps are installed on your cell phone… not in your car! See photos below: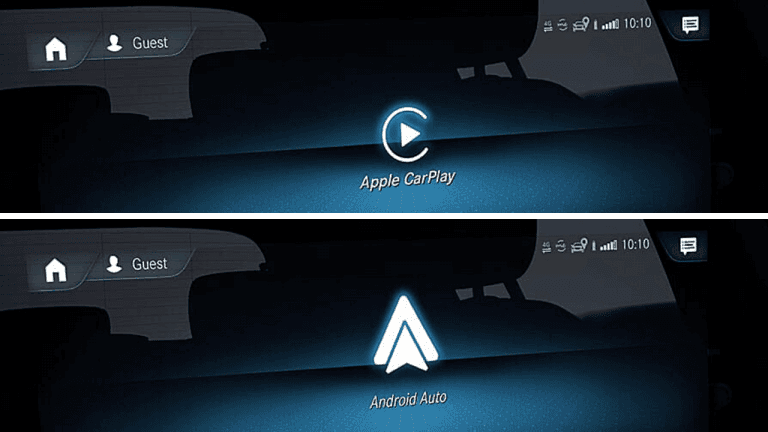 We have a video on how to use Android Auto if you have an Android operating phone, and similarly, you can use Apple Car Play if you have an iPhone. MBZMaster.com is also planning to release a video demonstrating the latest Android and Apple updated systems, so don't forget to subscribe to our YouTube channel to be notified as soon as it happens! The only problem, to use either one is – you must connect your phone to your car via USB cable, and some of you don't want to mess with cables. So, is there any other way to get an original Navigation for your car?
The answers are probably YES – in the near future, but NO – as of right now! On all the mentioned models 2020+ CLA, GLB, GLA, GLC, and 2019+ A-Class, you have the ability to add/install apps and then update them over-the-air. If you could install an app over the air, then you wouldn't need an SD Card anymore! As seen in the photo below: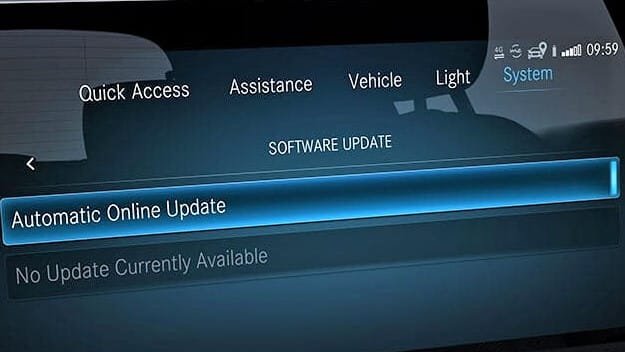 And here is the good news: "Mercedes-Benz Cross Carline Product Management team is currently exploring the possibility of offering the opportunity to add the Navigation Services via an "Over-The-Air" update. More details to follow in the coming months." So, the so-called "Map Media" will be downloaded to the internal hard drive of your car, and the need for an SD Card will be eliminated!
Here at MBZMaster.com, we will post an update about Mercedes Accessory Navigation as soon as it becomes available! If you'd like to see our future updates, please click both "LIKE" and "FOLLOW" on our Facebook Fan Page!
UPDATE 06/14/2022: (!)
Mercedes Accessory Navigation is finally available for download Over-The-Air via Mercedes-Me Connect Shop Store in the U.S.