(UPDATED ON 10/14/2020)
Since the introduction of the MBUX (Mercedes-Benz User Experience) entertainment systems for the many different 2020 Mercedes-Benz models, a lot of owners found the very puzzling "Dashcam" control inside their car, while the actual dashcam (Video Recording Option) was nowhere to be found! And the obvious question arose: "Where is the dashcam of my Mercedes and how do I use it?"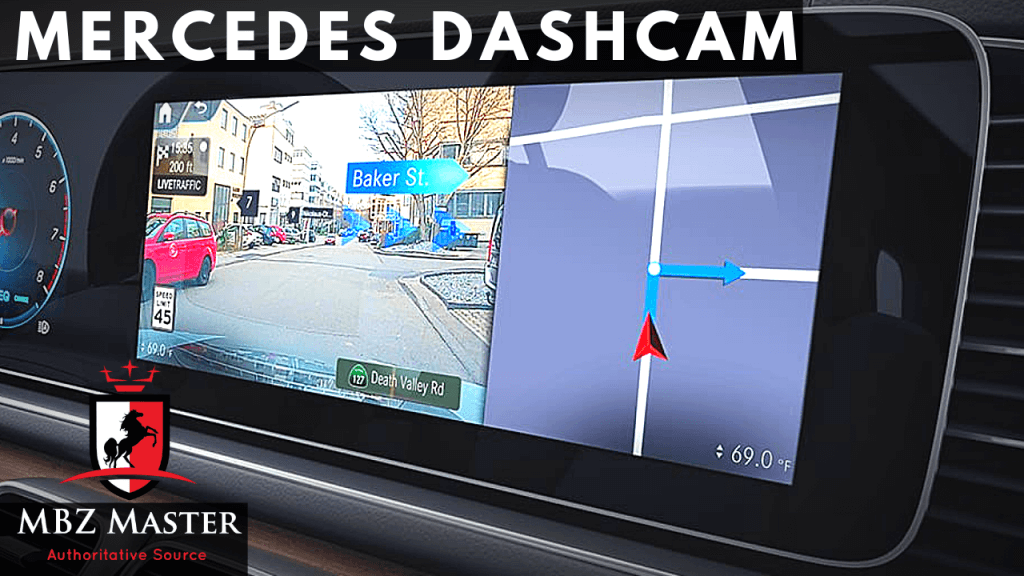 Well, while we can only speculate here at MBZMaster.com, it looks like the dashcam was in hiding due to some unexplained legal issues. While it's perfectly legal to use a dash cam inside the vehicle in the United States, it actually carries a very little weight in the court of law. There are too many Speilbergs, Tarantinos and whole lot of small -time video producers who can easily alter your dash cam footage into something completely different than what really happened, and then go figure!
However at the same time, the video recording inside your car can be helpful if it aligns with all other aspects of the legal case! Sometimes the recording can be useful for some other needs than just the recording of an actual accident, but sometimes not. Make sure NOT to get a dash cam if, for example, you are going to cheat on your wife or maybe husband! Definitely that video recording is not going to help you at all!
So starting with some 2021 models, Mercedes will roll out the Dashcam as an optional equipment. For people who don't know, Dashcam stands for: "Dashboard Camera", which you can use to video record your driving, and what's going on around you. Some initial models to include the Dashcam – (21U) option are 2021 Mercedes E, A, CLA, CLS, GLA, GLC, GLS, GLB-Classes and GLE SUV. Probably some other models will follow in 2022.
At the time of the writing of this article, we assume that in order to get this Dashcam, you would need the "Augmented Video" for Navigation – (U19) option as a requirement. Simply because Augmented Video already incorporates the front camera, and it would be crazy not to use it! Then the footage can be saved apparently either via an internal hard drive (HDD) or simply via an external USB stick.
What is Mercedes Augmented Video for Navigation?
Instead of using the simple map on the Navigation display like every other car, MBUX uses this feature to display the real road in front of you, by using the front dashcam camera. Then MBUX uses it's Navigation animation overlay layer to display the guidance! How cool is that? You can watch the demo of Augmented Video for Mercedes Navigation here.
Now the fun part begins here: In order to get "Augmented Video" you must get "Multimedia Package" – (DA5), which is part of it. And in order to get the Multimedia Package, you have to get the "Premium Package" – (DP1) for a reason that you need to have two 10.25″ display screens. Thank you Mercedes – for being so complicated!
So when someone tells you that the Mercedes Dashcam is just about $200 bucks, let's try to sum everything up and see the reality:
Mercedes Dashcam (21U) -$200;
Multimedia Package (DA5) – $1,150;
Augmented Video for Navigation (U19) – included;
Premium Package (DP1) – $1,700
The TOTAL you just climbed into – $3,050 (!)
At that point you have to ask yourself 2 questions:
Do I really need a $3k dash cam?
Can I find about 10 times less expensive one?
And the answer is: if you are getting Multimedia or Premium package anyway – then it makes sense. Otherwise, you should be able to find any aftermarket dash cam for a lot less, unless money is not an object!
What about the previous Mercedes models?
We can not say for sure at this time, but we can logically assume that any previous Mercedes-Benz vehicles that have been already equipped with "Augmented Video" (U19) option – will be retrofittable to obtain the Dashcam video recording functionality. We'll post updates as soon as we know! And also don't forget that every Mercedes already comes with the Event Data Recorder, and you can watch our video about it right here: in-vehicle Event Data Recorder (EDR) – The Dreaded Black Box.