2019 Mercedes-Benz C-Class models are offering the choice of 3 different Navigation systems to choose from. Each system has it's pros and cons, but which one do you really need? I'll explain in this article in details, so you can make an intelligent decision. So read on below.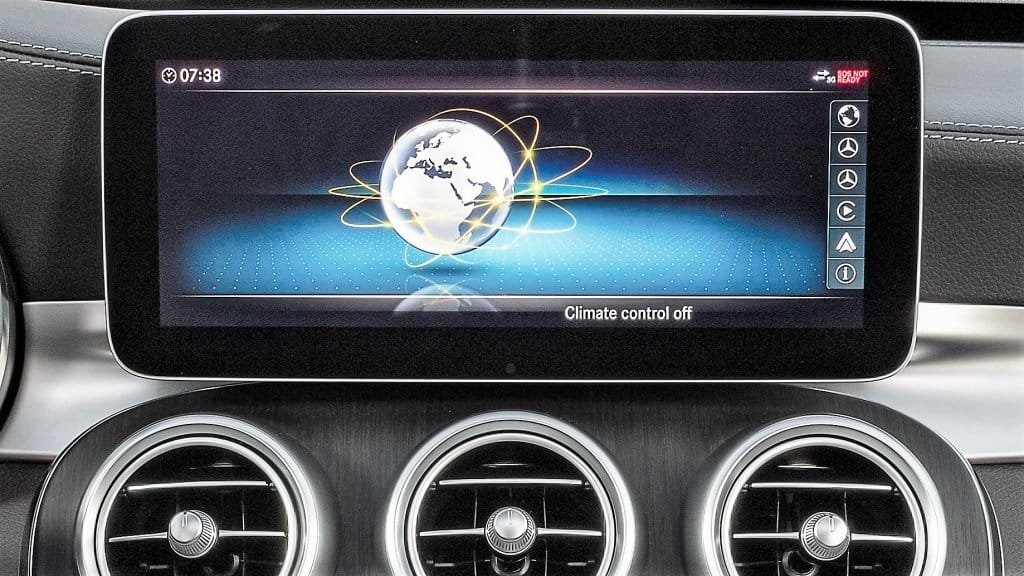 1st Option: Smartphone Integration!
The good news is the Smartphone Integration package is finally a Standard equipment on 2019 C-Class, so you don't have to pay any extra money to get it. Smartphone Integration includes both the Apple Car-Play and Android Auto systems. So if you own the cell phone, which operates either on iOS or Android OS (which is the vast majority of all the cell phones), you don't really need to buy any extra Navigation systems!
Once you get inside the car, you can connect your cell phone via USB connector and take full advantage of not only Navigation provided by either Apple Car-play or Android Auto, but also a lot of other features your smartphone can offer. For example: Phone, Contacts, Text, Emails, Radio, Music apps, Voice search and much more!
Some people complained that if you use this integration, you don't get the bigger and nicer high resolution screen. Well first of all, right now the smallest screen is pretty decent size – 7″, not 5 and a quarter like it used to be. Secondly for 2019 Mercedes C-Class, for about $300 you can get the bigger high-end 10.25″ inch widescreen Center Display – as a standalone option! Although I have to admit that the graphics of Apple and Android are not as good aesthetically than the beautiful and fluid graphics of the high end Mercedes Multimedia package. But hey – it's free!
You can use all the Mercedes native controls and buttons to operate either of them. Since most iPhones are very uniform and produced only by one manufacture – Apple, the connection is very straight-forward plug-and-play. On the contrary, it's not the case when you use Android-based phones, because there are tons of different manufactures and different brands using Android platform. Thankfully it's not difficult either, and you can watch my video on how to connect and use it here: Mercedes Android Auto Demo.
Pros:
Smartphone Integration is standard now on C-Class, so you don't have to pay any extra $$$;
Using Apple or Google products is very powerful, up-to-date with the tons of features and helpful apps;
Up-to-date software and data, such as live traffic etc…;
Navigation feature is capable to work without even Internet connection;
You don't have to learn the car features, since you already know how to use your personal phone;
You can utilize Mercedes native buttons and Voice Control for ease of use.
Cons:
You have to connect via USB every time you need to use it;
Doesn't give you all the smartphone functionality, to prevent distraction while driving;
Doesn't integrate with some of Mercedes available features and controls;
Screen graphics are mediocre compared to native Multimedia optional package;
Sound tones and balancing adjustments (except volume control) is very complicated;
You have to pay about

$300

to get a bigger optional central display.
2nd Option: MB Entry Navigation!

Another good news in 2019 C-Class is you can get an MB Entry Navigation system, which replaced the former Garmin SD Card Navigation. Although the former Garmin was doing it's job to give you the direction, it was ridiculously slow and it would not understand one word you were saying, when using the Voice Control, even if you had to scream into the thing. The only time it would understand me personally is when I was loudly swearing using inappropriate words! Then it would just shut down altogether for a few minutes. Add to this the cartoon-style graphics, coming directly from the computer's DOS era of 80's, and you understand why Garmin became a joke among the patrons.
However the new MB Entry Navigation operates basically the same way as the former Garmin – through SD Card slot and requires the pre-wiring. So basically the car comes from the factory with already pre-wired (pre-installed) Navigation system, but without the "brain", so it's useless. The "brain" – operating software, resides on SD Card and sold separately for about $625, which is a lot less than the full blown Multimedia package. Once you buy the Navigation, which is an SD Card chip, you just insert it inside the SD Card slot in the middle compartment and leave it there forever.
Nonetheless, the similarities end right there. According to MBUSA, MB Entry Navigation is 25% faster than the previous Garmin Navi, which is a big improvement. The new system gives the same feel and look as the premium Mercedes COMAND unit, and with similar functionality! But on the smaller 7″ screen, which by the way is not that small. Additionally you can add for about $300 the biggest possible 10.25″ inch Center Display as a standalone option.

It's also equipped with the various points of surrounding interests and live traffic. However it lacks the Google smart functionalities like your smartphone has. For example I don't know how MB Entry Navigation will answer to your questions like: "Do you know who invented the first car?" or "When is the next hockey game and what time?" etc… If you use Smartphone Integration system, then all of those questions would be a piece of cake for Google. There's a workaround and it's still possible to do, but I will discuss it in my upcoming releases.
Pros:
Don't have to connect any wires or USB, insert SD-Card once and forget it;
It's inexpensive, $625 is a lot less than COMAND;
Premium look, feel and functionality of the premium COMAND system;
Integrates with all of the Mercedes features and controls natively;
Full sound and every other control integration out of the box.
Cons:
Not as smart as Google, knows much less;
Occupies SD-Card slot, which you'd be able to use for something else;
Doesn't come with the Touch-pad and the new Enhanced Voice Control;
Not compatible with the online functions, like for example MB Apps;
You have to pay about

$300

to get a bigger optional Central Display.
3rd Option: Multimedia Package!
Multimedia package is the latest technology offered by Mercedes-Benz for 2019 C-Class. COMAND unit has been upgraded to the newest NTG 5.5. The same level of technology as you find in E-Class and S-Class models. It also includes the newest feature: Enhanced Voice Control, which allows you to control much more by voice, than just the head unit. I will discuss it in my upcoming releases, so stay tuned to MBZMaster.com.
With this package you will be getting stuff like: Stunning HD graphics with 3-D capabilities, as well as SNAP overlays for gas stations including prices, weather, parking availability and much more! Live traffic information and Car to X communications are included as well.
Mercedes Multimedia package also adds the Central Controller combined with the Touch-Pad, where you can write with your finger without any distraction, because you don't have to look at it. And most importantly this package already includes 10.25″ inch Central Display! You can get all this for just $2,600 – just $1,600 more than MB Entry Navi and upgraded bigger screen! Great value – right? But not so fast…
Multimedia package requires you to get Premium 1 package which is about $1,600, that's on top of $2,600 for the Multimedia package itself. Furthermore if you're planing on getting the Driver Assistance package for $2,250 or the newest 12.3″ inch Digital Instrument Cluster for $750… or maybe even both, you are required to have the Multimedia package… which is already required to have Premium 1 package to begin with… If you did not lose me yet – let's cut to the chase: shoot for Multimedia package ONLY if you are going after the "Top of the Line" model. Otherwise, try to stay away from Multimedia, because the price of the car will be climbing upward very quickly!
Pros:
Don't have to connect any wires or USB, nor occupy the SD-Card slot;
3-D graphics and HD aesthetics are eye-pleasing, to say the least;
COMAND unit with the plethora of gadgets and toys (some useful and some not) and also MB Apps;
Simple to use Central Controller with the Touch-pad and big 10.25″ screen;
The latest Enhanced Voice Control, which can control heating seats, illumination, climate control etc.
Cons:
Much more expensive, considering the requirement for an additional packages and options;
Much smarter than used to be, but still not even close to Google, however there is a workaround that I'll be discussing in my upcoming video release;
Loaded with a lot of useless features;
Some MB Apps require additional monthly charges;
Down the road (beyond manufacture warranty) may be very expensive to repair or fix even some small problems. On another hand, If you get Smartphone Integration, the only problem you may have – is with the phone itself, which can be easily replaced or fixed.
Bottom Line Advice:
For the majority of people I would recommend just to stick with Smartphone Integration. Sometimes simplicity is convenient and smart, plus doesn't cost any extra. You have the power of Google Voice Search and you have everything that you really need in everyday driving situations. Apple Carplay and Android Auto are evolving with times and don't get obsolete or outdated. Since your car doesn't have any software – there will be nothing to break down in the future, which maybe costly to fix – down the road. Because if your smartphone breaks down, it will be easier to fix or replace your phone than fixing your car.
The only real reason to get MB Entry Navigation is if you don't own any smartphone! I actually know some people who are still obsessed with their flip-phones! Another argument I hear is some of you would never deal with cables or messing with USB connectors. That maybe a valid reason too, but the only time you would really need to connect the cable to your phone is when you need to use the Navigation on screen. So how often do you use Navigation anyway? The car is already equipped with all other functionality so there is no need to connect.
And finally the Multimedia Package is for someone who is looking for the "Top of the Line" model. Or for someone who is considering to get Premium 1 package, Driver Assist package or 12.3″ Instrument cluster. In that case you wouldn't have any other choice but to get it.
To learn more you can watch: 2019 Mercedes C-Class Changes: What's new?
If you'd like to follow my new video releases, you can subscribe and get notifications here: MBZ Master YouTube Channel!
If you'd like to follow all my other updates, please visit MBZ Master Facebook Fan Page and make sure to click both LIKE and FOLLOW buttons on the top.